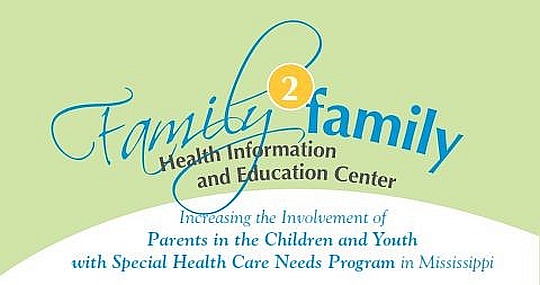 The Mississippi Family 2 Family Health Information and Education Center (MS F2F) is a family-focused, family-managed program that works to empower the families of children and youth with special health care needs (CYSHCN) to be partners in the decisions made concerning the health of their children.
What does MS F2F do?
Disseminates information through one-on-one consultations or group training, and technical assistance to support families of CYSHCN as well as the healthcare professionals who serve them
Mentors families via one-on-one contact by locally (601.432.6929) or toll free (1.866.883.6929)
Provides information and resources to families, via website and social media
Encourages collaborations between families and professionals within the state
Assists families to make well-informed decisions about their child(ren)'s health care and be well equipped to participate in systems building activities in their local communities and in Mississippi
Holds trainings for families on advocacy and the six key measures of quality health care
Distributes tip sheets highlighting strategies for collaboration between families and professionals, information about the Affordable Care Act and the six key measures of quality health care
Infuses the philosophy of family-centered care, family professional partnerships and cultural and linguistic competence in all activities or projects
Stay current with the Family 2 Family Blog. Get the monthly posts delivered to your email automatically by signing up.
For more information, contact Parent Consultant Dr. Leslie LaVergne at 601.266.5163.